START spreading the news, 'Sinatra' the musical puts the 'S' in 'sensational'.
At the world premiere; I gasped often, wept tears of pure joy and got this overall sense of being in at the birth of something very special.  You know when theatre is special as everyone smiles collaboratively at each other in the interval and here it was beams all round.
Big doff of the cap then to the REP for co-producing this show and they can be justly proud that 'Sinatra' was 'Made in Birmingham'. This could not come at a better time, shining a beacon of light amongst the city's current economic gloom.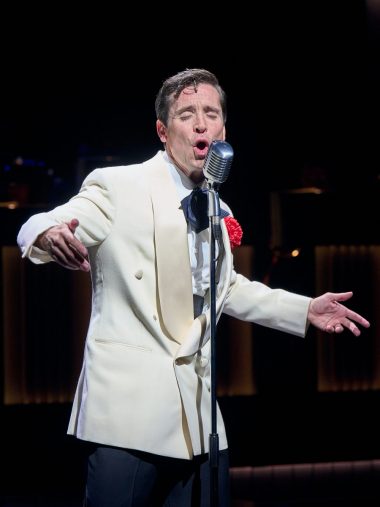 ---
---
The script is the brainchild of the highly talented American writer Joe Dipietro.
He is no stranger to the REP as he premiered his highly entertaining  'What's New Pussycat' here in 2021.
Dipietro has a style of scripting that calls on a myriad of theatrical devices to tell the story his way. For me he is the current 'top boy' in musicals, who writes dangerously and leaves you thinking as well as reeling.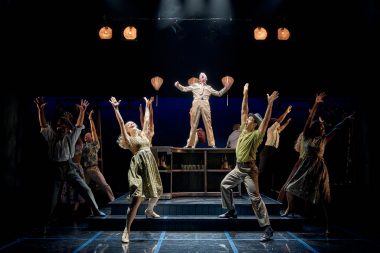 His 'Sinatra' tells of the great man's rise and fall and rise again, his philandering, petulance, naivety and his pure raw talent. All this set amongst a mamarvellous musical catalogue.
The show is directed and choreographed with flair and passion by Kathleen Marshall. She brings to life Dipietro's vision and in turn is served well by an ever-moving kaleidoscopic set from designer Peter McKintosh.
Musical Director Mark Aspinall conducts an awesome large orchestra that old blue eyes himself would have given his approval too and Jon Morrell moves us through the decades with splendid customary,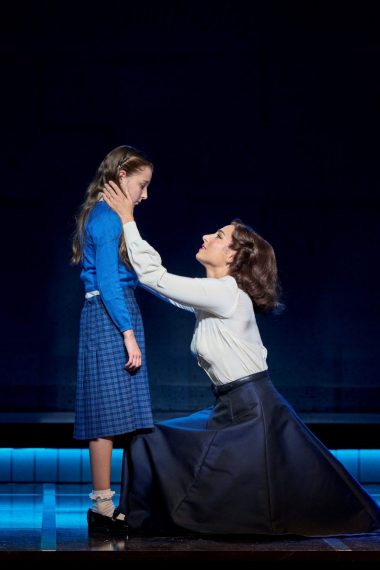 Phoebe Panaretos plays Sinatra's long suffering first wife Nancy with charm, grace and dignity whilst Ana Villafane captures the sex kitten,  beauty and brains of Hollywood's hottest lady Ava Gardner and Sinatra' s second wife.
Carl Patrick is likeable and believable as Sinatra's friend and agent George Evans also Vincent Riotta and Dawn Buckland are delightful as his parents Marty and Dolly Sinatra.
There are three girls alternating the role of little Nancy, Amelia Katie Connor, Effie Gell and Isla Granville, whichever one I saw was certainly perfect.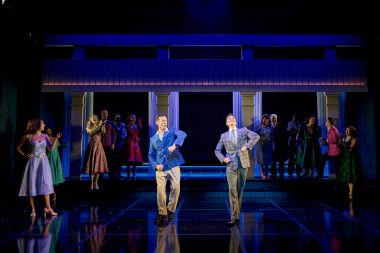 Matt Doyle is simply awesome as Frank Sinatra, his holy trinity talents of acting, singing and dancing are fused to unleash pure wonderment! Bring on the Oliviers and the Tonys as this performance and this show should be going swiftly to the West End and Broadway.
To make the evening even more perfect I sat by Frank's daughter Tina Sinatra who is one of the show's producers and congratulated her at the curtain. Tina has inherited the charm and smile of her father and I felt privileged to meet her.
Grab a ticket while you can for this show folks is off the scale!
Sinatra the musical is at the Birmingham REP until October 28. Click here for times, tickets and more information.
*****
Review by Euan Rose
Euan Rose reviews