THE 2023 Kwik Fit British Touring Car Championship has been officially launched during an exclusive event at the London Golf Club.
The event precedes the only official pre-season test at nearby Brands Hatch, which will feature all the cars and stars of the upcoming campaign.
The venue, more famous for a different kind of driving…hosted all the drivers and teams – plus invited partners, guests and sponsors – as Britain's biggest and best motorsport championship got underway in a fun and relaxed mood.
A host of announcements and interviews were built around the launch, including BTCC's latest media partnership with Autocar, and a live broadcast of the ever-popular Tin Top Tuesday. It was a welcome conclusion to a packed day of activities, where drivers also completed their photography and television requirements for the new season.
The BTCC season then officially begins with its first event at Donington Park on April 22/23.
---
---
Ingram out to defend title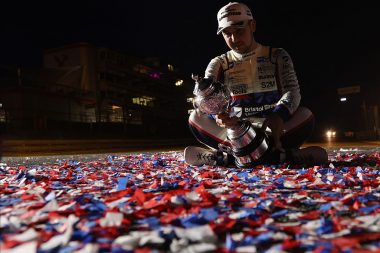 Consistency is key for the BTCC's leading lights, with last year's top six contenders all remaining with their respective outfits for the new season.
Champion Tom Ingram (Bristol Street Motors with EXCELR8), Ash Sutton (NAPA Racing UK), Jake Hill (Laser Tools Racing with MB Motorsport), Colin Turkington (Team BMW), Rory Butcher (Toyota GAZOO Racing UK) and Josh Cook (One Motorsport with Starline Racing) were the standout drivers in 2022, and there's little to suggest that the sextet won't be back in contention this time around – but they're likely to be joined by an ever-growing chasing pack.
Of the others looking to mount a serious title charge… the names of both Dan Cammish and Adam Morgan immediately jump off the page.
Cammish had a topsy turvy return to the BTCC with NAPA Racing UK last year, but his talent and experience would suggest that a second season with the squad is likely to reap rewards.
Meanwhile, Morgan has his first-ever manufacturer-backed drive in the championship; it doesn't get much better than a graduation to West Surrey Racing's Team BMW. Stephen Jelley completes the line-up at WSR, alongside Turkington and Morgan, making this one of the strongest outfits on the grid.
Similarly, NAPA Racing UK and Toyota GAZOO Racing UK boast extremely talented drivers, with Dan Rowbottom and Sam Osborne completing the former's line-up, whilst George Gamble and Ricky Collard will be gunning for silverware with the latter.
The newly named ONE Motorsport with Starline Racing may see Cook as its standout contender, but the recently signed Aiden Moffat and Will Powell will undoubtedly have their moments too. Scotsman Moffat will be looking to join the front runners on a regular basis.
Team HARD has six entries across three teams. The line-up is one of its most impressive and interesting driver rosters, led by the likes of Bobby Thompson and Dan Lloyd (Autobrite Direct with Millers Oils), whilst, Dexter Patterson, Jade Edwards (Re.Beverages and Bartercard with Team HARD.), Jack Butel and Nic Hamilton (Go-Fix with Autoaid Breakdown) will have their part to play in the squad's overall challenge.
Aron Taylor-Smith has moved to head up CarStore with Power Maxed Racing's expanded three-pronged effort, with rookies Andrew Watson and Mikey Doble completing the trio.
Last and of course by no means least, it's the formidable Bristol Street Motors with EXCELR8 team, led by reigning champion Ingram.
What this squad has achieved in a short space of time is nothing short of phenomenal, and with Ingram being joined by Tom Chilton, Nick Halstead and Ronan Pearson, the team will be targeting all titles this year.
"I'm excited for the year ahead and I'm looking forward to seeing how it plays out," Ingram said.
"I'll never take it for granted having won the championship, but I'd certainly like to think we can do it again. We really enjoyed winning it of course, it was an incredible feeling, but the work began almost immediately on trying to make things even better and to ensure we will be back up there competing again this season.
"The BTCC is so competitive so it's a constant battle in striving to improve, but the feeling is good and the confidence is high, so bring it on!"
The hybrid era now moves into its second season. With enhancements to its deployment, as well as the re-introduction of the Goodyear option tyre and a further expansion to the 'Top Ten Showdown' qualifying format (see separate story), it is set to be an absolute cracker from the outset.
The 30-race season will be played out in front of tens of thousands of fans trackside, and millions more watching the action live on ITV, with every race being screened live and exclusively by the giant television network.
Alan Gow, BTCC Chief Executive, said: "It has been as busy as ever during the off-season, but now we can't wait to get the 2023 Kwik Fit British Touring Car Championship started.
"The championship again boasts a hugely competitive driver line-up with an ever-growing number of genuine title contenders all looking to win the title, so it will be interesting to see who will come out on top.
"The Hybrid introduction last year proved very successful and popular among fans, but we immediately identified ways in which to tweak how the Hybrid is deployed in order further enhance the competitiveness for 2023. This, plus the reintroduction of the Goodyear option tyre and the 'Top Ten Showdown' qualifying format now being adopted at five of the ten events, means it is set to be an extremely exciting season ahead.
"Kwik Fit, Goodyear, ITV, Cosworth, M-Sport and our other incredibly loyal partners play a massive role in this championship, and we remain always grateful for their support and enthusiasm.
"It's almost time for the talking to stop and the action to get underway, so we hope you all enjoy the 2023 BTCC season."
Please click here for the full 2023 Kwik Fit British Touring Car Championship entry list.